(252) 491-5460
Get Directions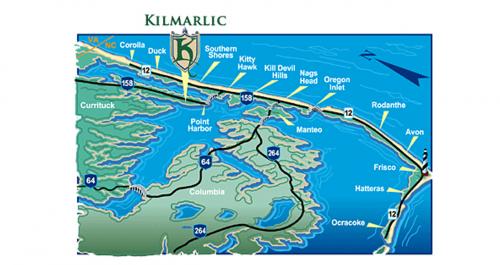 The Outer Banks of North Carolina is home to a gorgeous diversity of natural elements that span the sea, sand, and sky. From the breathtaking coastline to ecosystems that sustain everything from migratory birds to wild horses, there's something truly fascinating about the sheer versatility the landscape offers up. The Outer Banks is a beautiful place for outdoor enthusiasts to find exactly what they're looking for but if you're looking for a golf getaway that combines the best of outdoor beauty and fun on the greens, there's a place waiting for you too. Kilmaric Golf Club has long been a nature lover's paradise and a perfect place to tee off in Outer Banks style.
Nature and Golf Combined
Sitting pristinely at 215 West Side Lane in Powells Point, Kilmarlic Golf Club is highly popular among golf enthusiasts who are craving an experience that challenges their golf game while providing some of the most breathtaking vistas around. The Kilmaric Golf Course sprawls across 605-acres of maritime forest and integrates lovely wetlands making it a place where a harmonious chord is struck between environment, development and of course, golf. Take time to perfect your skills on the green while enjoying the shade of towering oak, pine, and dogwood trees as you make your way through. This pristine partnership between golf and nature has golfers returning to this spot year after year in the name of competition and admiration.
Planning Your Visit
Once you book a tee time at Kilmarlic Golf Club, you're welcome to bring your own gear but it's not a necessity. Kilmarlic Golf Club comes with a fully stocked Pro Shop that provides guests with everything they could need for a wonderful day on the links. From clubs to caddies and apparel in between, the Kilmarlic Pro Shop is a one-stop shop for all your golfing needs while you're here. Golf packages are readily available if your travels have you in the area for several days. If not, feel free to grab a scorecard and head out for a round of golf on Kilmarlic Golf Course you won't soon forget.
Am Amazing Stay in the Outer Banks
The beauty of the Outer Banks is endlessly captivating and brings visitors back annually in the name of more to explore and discover. When you're here for the best of Outer Banks golf, be sure to book a beautiful vacation rental with Brindley Beach Vacations and Sales. Our friendly and caring staff are here to make sure you're settled in a property that fits your every need and brings the luxury and comfort you deserve. Contact us today for more information and to begin planning!