Traveling with a furry friend only adds to the adventure! Although sometimes it can be hard to find things to do that your pet can participate in with you. That's why we gathered a list of all the dog-friendly places you can visit during your stay with us in OBX.  
Dog-Friendly Beaches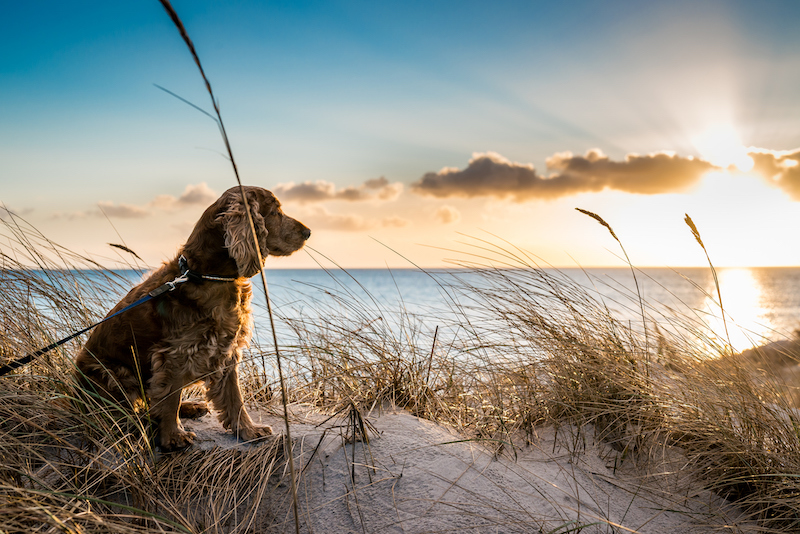 Stroll along one of the many dog-friendly beaches OBX has to offer. While we strive to provide you with the most updated information, the rules can change. We recommend double-checking all dog leash laws before you venture out to the beach.
Corolla Beach
Dogs are allowed on the beach year-round if they are leashed. They do not have a requirement as to how long the leash must be.
Duck
Dogs are more than welcome to come to Duck Beach, unleashed. Although, they need to be watched closely by their owner as a matter of public safety and courtesy to others.
Southern Shores
Dogs are allowed on the beach before 9 am and after 6 pm from May 15th to September 15th. Dogs must be on a leash no longer than 10 feet per the year-round leash laws. All pet waste must be picked up immediately and deposited in appropriate containers.
Kitty Hawk
Dogs are allowed to be on the beach but must display a current rabies tag. Owners must remove pet waste immediately and always possess a bag or container for waste removal. During peak season, from Memorial Day to Labor Day, dogs must be on a leash not exceeding 12 feet during the hours of 10 am to 6 pm. If the dog is off-leash, the owner must stay within 30 feet of the dog and have a leash on hand in case of necessity. 
Kill Devil Hills
During peak season, from Memorial Day to Labor day, no dogs are allowed on the beach, except service animals, between the hours of 9 am to 6 pm. Outside of those times, dogs are welcome at the beach as long as they are on a leash and under the control of the owner.
Dog-Friendly Parks
Sometimes the sand can be a little harsh on our dogs' paws during the summer months. That's why we wanted to recommend a few dog-friendly parks your pup can visit.
Wright Brothers National Monument
Dogs are allowed to visit the Wright Brothers National Monument if their owners follow the principles of B.A.R.K. B- Bag your pet's waste. A- Always on leash. R- Respect Wildlife. K- Know where you can go.
Dogs are allowed on park grounds, but they are not allowed in any of the buildings. The dog's leash must not be any longer than 6 feet. You are not allowed to leave your dog unattended on park grounds. Lastly, clean up after your pet and properly dispose of pet waste in a trash can.
Location: 141 National Park Drive, Manteo, NC 27954
Historic Corolla Park
Dogs are allowed at the Historic Corolla Park if they are on a leash. However, they are not allowed to go into some of the historic buildings. All dogs are invited to the events the park holds such as Whalehead Wednesday.
Location: 110 Hunt Club Dr., Corolla, NC 27927
Jockey's Ridge
While this isn't exactly a place to get away from the sand, if your dog has some booties available, it might be fun to visit Jockey's Ridge State Park. This tallest living sand dune on the Atlantic coast is perfect for the family to adventure, fly kites, and even watch the sunset. If your dog is tagging along, it must be on a leash no longer than 6 feet. They are not permitted inside buildings, and you must clean up after your pet.
Visitor Center Location: 300 W. Carolista Dr., Nags Head, NC 27959