(252) 475-1500
Get Directions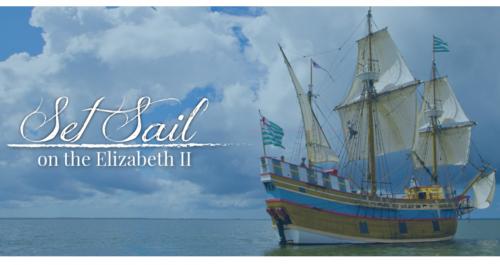 The many charming towns that make up the Outer Banks of North Carolina are well-worth visiting if you have the time. However, for those visitors to this area who have a heart and endless passion for history, make sure to make your way to the waterfront district of Manteo where The Elizabeth II is docked in all her glory. Amongst the fishing boats, sailboats, and yachts, The Elizabeth II isn't hard to pick out as her masts rise proudly into the air and Tudor flags sway on the breeze. This historic 16th century vessel proudly displays its shining wooden exterior and is a true testament to the passage of time. Learn more about one of our favorite North Carolina tourist attractions below!
Step Back in Time
When you want to know what it feels like to step aboard a 16th century vessel, this 69-foot ship welcomes guests of all ages to experience it for themselves. Whether you've always wanted to raise an anchor, plot a course for a deserted island or even swab the decks, you're free to do so as you wander aboard The Elizabeth II admiring the restoration and meticulous attention to detail that keeps this ship in tip-top shape for all to enjoy. Costumed interpreters can easily be spotted onboard as well and are always on hand to provide authentic insight and information as to what life would have been like when The Elizabeth II was in her prime.
A Celebration of Accomplishment
The Elizabeth II was designed to reflect ships that first sent to Roanoke Island in both 1584 and 1587. These ships sailed with the goal of setting up new colonies in the present-day Outer Banks. The ship that sits on the Manteo waterfront today was built to celebrate American's 400th birthday and was designed and constructed at what is today known and loved as the Roanoke Island Maritime Museum. Visiting the ship is simple with a convenient access point available through Roanoke Island Festival Park. The grassy area and docks make for a quick and fun tour prior to hopping aboard the ship. Guided tours are available once onboard for a small fee, but the views of downtown Manteo are equally as thrilling and come free of charge.
Enjoy the Best North Carolina Tourist Attractions
With so many North Carolina tourist attractions and historical landmarks waiting to be explored, there's never been a better time to make your way to the Outer Banks in the name of an amazing vacation. The team at Brindley Beach Vacations and Sales is here to help make your experience as unforgettable as possible by handling your accommodation details. We'll make sure you have a beautiful vacation rental to call your own that brings the comfort and luxury you deserve. Contact us today for more information and to begin planning!